Organization of the Kansai Research Center
Team leader:Mountainous Areas Revitalization
The team studies political and socioeconomic issues to contribute to the Quality of Life (QoL) improvement of the people in mountainous areas, aiming to maximize their wealth by using regional resources practically.
Logging residues collected from forest
Various regional resources provided by Mountainous areas
Team leader: Forest Water Cycle
The team measures the stream flow in the Tatsunokuchi-yama Experimental Watershed, which was initiated in 1937, and tackles the quantitative estimation of forest influences on stream flow, elucidation of runoff generation processes, and forecast of prospective runoff fluctuation associated with changing climate simultaneously.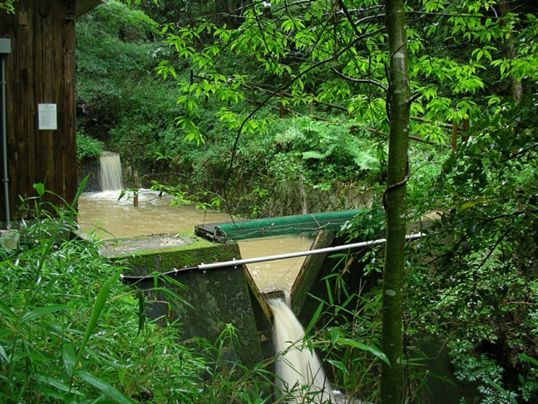 The gauging weir at a storm event
The meteorological station in the Okayama Experimental Forest
Team Leader :Forest Soil Resources
The team studies the characteristics and distribution of soil resources to clarify the influence of various environmental factors on soil formation. Rainfall and stream water chemistry are being monitored to assess the effects of future environmental change on water quality.
Immature soil on bald mountain until the late 19th century
Rainfall sampler
Forest Ecology Group
The group studies the structure and dynamics of forests and the ecological and ecophysiological characters of forests' component tree species to clarify the mechanism for conserving various types of forest systems in the Kansai region. Furthermore, the group studies the efficient regeneration and tending technologies of Sugi and Hinoki plantations for the sustainable use of wood resources.
Use of containerized seedlings for low cost plantation
Conservation technology of rare tree species
Forest Environment Group
Forests play an important role in climate change, flood mitigation, and water quality formation. The group investigates the environmental mitigation effects of forest. In addition, the group examines soil formation and disaster deterrent functions of the forest.
Meteorological tower for measurement of CO2 and energy flux between forest and atmosphere
New risk evaluation method for landslide was developed using groundwater aeration sound and stereoscopic map
Forest Biodiversity Group
Forests and their watersheds are populated by various kinds of interrelated, interdependent organisms. The group studies the genetic and species diversity of these organisms and the relationships among them. The group has also conducted research on protecting forests with well-maintained, diverse flora and fauna and on recovering lost diversity.
Fungal pathogens have a role of casual agent to restrict natural regeneration of forest trees
  Acorn-rot and wilted seedlings caused by fungal diseases
Browsing prevents coppicing
Forest Health Group
Trees are influenced by other forest organisms such as insects, microorganisms, and wild animals. The group examines the damage these organisms cause to the forests and develops forest health technologies.
Witch's broom of ornamental cherry trees
Japanese oak wilt
Forest Management Group
Forest management usually takes a longer time than a person's lifespan. Thus, the group have been surveying forest growth and thinning effect on permanent experimental plots since 1934. Moreover, the group has analyzed the quantity and quality of forest resources, history of local forest use and landscape change using aerial photos, satellite images, airborne LiDAR, or old maps.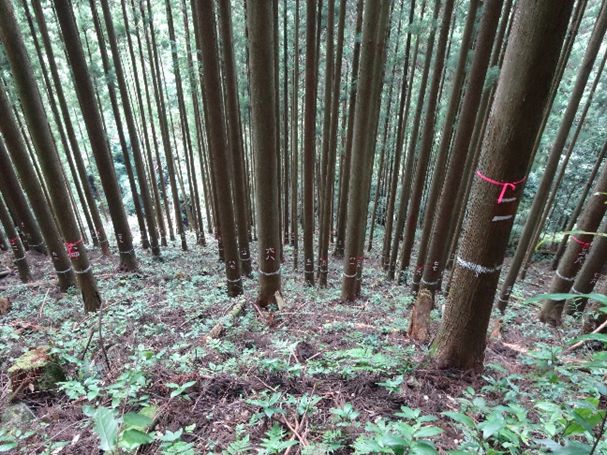 Shirami permanent experimental plot(Cryptomeria japonica planted in 1952)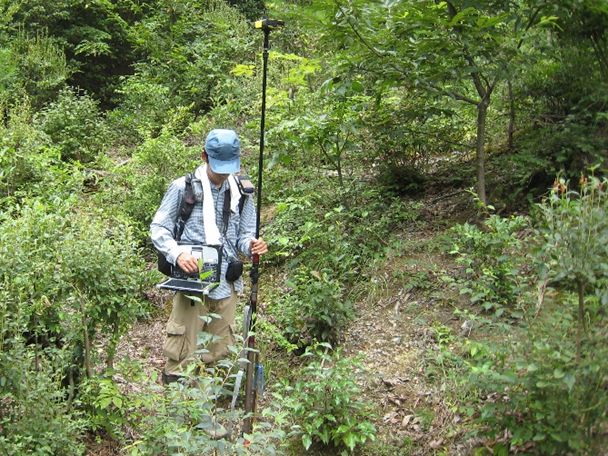 GNSS survey under forest canopy using a landing net handle.
Academia-Industry-Government-Civil Cooperation
The Kansai Research Center organizes seminars and symposiums, accepts trainees, provides technical guidance, dispatches lecturers, and collaborates for joint research for academia-industry-government-civil cooperation in the responsibility area.