During the snow-melting season, sudden snow melting or heavy rainfall can cause disasters such as snow avalanches, landslides, and river floods. To predict such disasters, the flow of water inside the snowpack must be accurately understood. The water in the snowpack is known to flow downward while forming a preferential flow course called a flow path. While observing the formation of the water flow, some snow must be cut out and observed. However, once the snow is cut out, there is the complication that it becomes impossible to observe the subsequent changes that will occur, and thus, further details are unclear.
Therefore, to reveal the phenomenon of water flow into the snowpack, an experiment was conducted using nuclear magnetic resonance imaging (MRI), which is widely used in the medical field.
In the experiment, water was artificially added to undisturbed samples of snow taken from a natural snowpack, and the distribution of water inside the snow samples was measured at a high resolution for short intervals. As a result, for the first time, we successfully observed the detailed three-dimensional water flow in the snow. In this experiment, we observed that the flow paths were formed with diameters of several mm, and the number of flow paths increased with time.
This result indicates a new way of elucidating the water flows in the snow and shows that MRI visualization technology is accurate for clarifying the physical phenomena in the snow. An understanding of such water concentration phenomena is expected to significantly advance the perception of the mechanism of mountain disasters during the snow-melting season, which was previously challenging to predict.
Figure 1. Equipment for the infiltration experiment.
Left: a general overview of the complete experimental apparatus.
Right: the compact MRI used in the experiment (higher spatial resolution can be captured than that by medical MRI).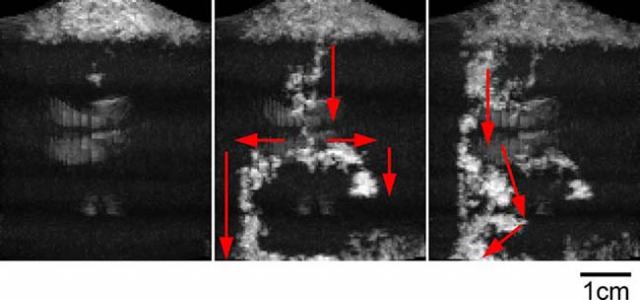 Figure 2. Images of the water flow in the snow visualized using MRI.
The white parts in the figure indicate the locations containing water, while the red arrow marks indicate the water flow.
A flow path having a flow branch was formed in the initial period. After this, another new flow path was formed.