Author (affiliation)
Takashi Yamanaka (a), Miki Konno (b), Masataka Kawai (c), Yuko Ota (d), Noritaka Nakamura (e), Akira Ohta (f)
(a) Principal Research Director (Biological Function and Biotechnology), FFPRI, Tsukuba, Ibaraki, Japan.
(b) Miyagi Prefectural Forestry Technology Institute, Ohira, Miyagi, Japan.
(c) Nara Forest Research Institute, Takatori, Nara, Japan.
(d) Nihon University, Fujisawa, Kanagawa, Japan.
(e) Department of Mushroom Science and Forest Microbiology, FFPRI, Tsukuba, Ibaraki, Japan.
(f) Shiga Forest Research Center, Yasu, Shiga, Japan.
Content introduction
Tricholoma bakamatsutake (Photo 1), which forms its fruit bodies in oak forests, is similar to T. matsutake in shape and odor; therefore, it should have a high economic value similar to that of T. matsutake. Recently, fruit bodies of T. bakamatsutake were produced 11months after planting a Quercus phillyraeoides sapling with a pure culture of T. bakamatsutake. This result is contributing to the development of techniques of field cultivation of Bakamatsutake mushrooms.
This fungus forms thick-walled spores (chlamydospores) terminally on the hyphae in culture and in field settings (Photo 2). In the present study, the effects of various nitrogen compounds on vegetative hyphal growth and chlamydospores formation were examined, and the addition of valine or glutamine improved the formation of chlamydospores. Because chlamydospores are more resistant to environmental stress such as dryness than vegetative hyphae, the chlamydospores are advantageous for providing symbiosis between T. bakamatsutake and trees in natural environments.
Based on the results of the present study, we will clarify the procedures for enhancing mycorrhizal formation of trees using chalmydospores.
Photo 1: Bakamatsutake. This mushroom grows in oak forests. Although somewhat smaller than matsutake mushrooms, they have a similar flavor and are sold in local markets.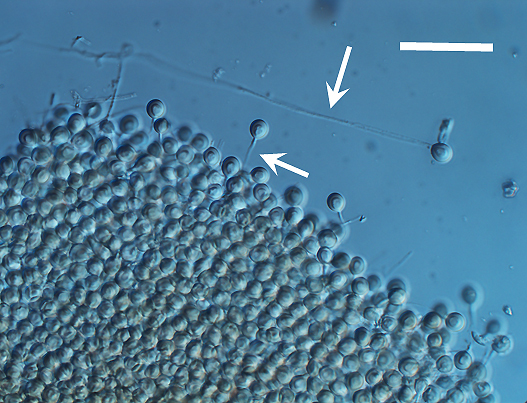 Photo 2: Chlamydospores of T.bakamatsutake. This species forms globules whose cell walls are thicker than those of vegetative hyphae (arrows). The scale bar is 0.05mm.