Author (affiliation)
Takuma Araki (a, b), Shusuke Umeda (a), Naofumi Kamimura (a), Daisuke Kasai (a), Shuta Kumano (a), Tomokuni Abe (a), Chika Kawazu (a), Yuichiro Otsuka (b), Masaya Nakamura (b), Yoshihiro Katayama (c), Masao Fukuda (d), Eiji Masai (a)
(a) Nagaoka University of Technology, Nagaoka, Niigata, Japan.
(b) Department of Forest Resource Chemistry, FFPRI, Tsukuba, Ibaraki, Japan.
(c) Nihon University, Fujisawa, Kanagawa, Japan.
(d) Chubu University, Kasugai, Aichi, Japan.
Content introduction
The effective use of woody biomass is necessary to create a sustainable, material-recycling society. Lignin, one of the major components of wood, is the most abundant aromatic polymer on earth. In recent years, microbial conversions known as "biological funneling" have attracted attention for their ability to upgrade low-molecular-weight aromatic compounds, such as vanillate and syringate, obtained through the chemical treatment of lignin into a raw material for polyesters such as 2-pyrone-4,6-dicarboxylate (PDC). Therefore, the metabolic system of microorganisms involved in the fermentation of low-molecular-weight lignin must be elucidated.
In this study, we investigated the transcriptional regulatory systems of the vanillate and syringate catabolic genes in Sphingobium sp. SYK-6. Our experiments revealed that the transcription of ligM and desB, which are involved in vanillate/syringate and syringate catabolism, respectively, are negatively regulated by the transcriptional regulator DesR. Furthermore, the transcriptional repression by DesR was abolished in the presence of vanillate or syringate.
SYK-6 produces PDC from vanillate and syringate generated through lignin decomposition; PDC is a substitute for the petroleum-derived raw material for polyester. Based on the results of this study, we advocate for the development of a production system for value-added chemicals from lignin by modifying the metabolic system of SYK-6.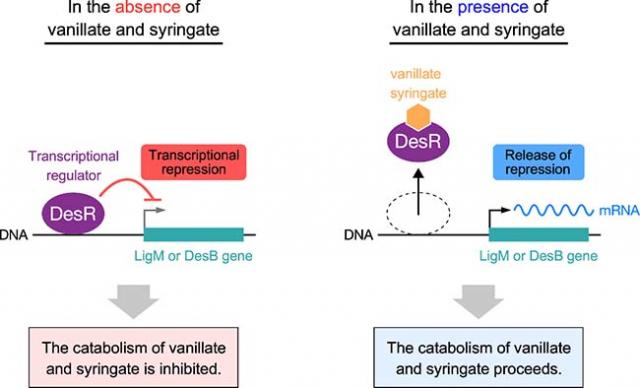 Figure. Transcriptional regulation of vanillate and syringate catabolic genes in Sphingobium sp. SYK-6.